Safety Deposit Centre Vault Case Study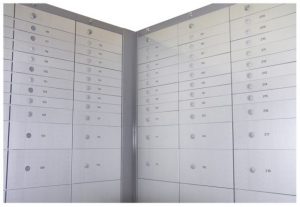 The customer had asked us to provide a Safety Deposit Centre to fulfil the needs of his potential clients in the Leicestershire area. From the very start of the project it was obvious that the customer was aware of the potential, being involved with a local bank that offered the service and whose deposit centre was now completely full.
We provided detailed information of the available lockers and advised on the most suitable sizes to give a spread of options to his clientele. We manufactured shipped and installed a grade X EX CD demountable strong-room fully tested and certified to ECBS standards. This grade of vault offers a bank grade of protection with the added security of explosive (EX) and Core Drill (CD) certification
The vault was filled with multiple columns of our lockers with cast aluminium doors making a stunning impression to any customer. The finish is timeless. In other vaults additional lockers have been installed alongside those that have been used for 20 years and the difference is hardly perceptible. Several private cubicles were provided for customers to examine their valuable jewellery money or paperwork within the safety of the vault
All customers were registered on the system with a facial photograph and access to the vault is gained via finger biometrics and a proximity card or pin code. Finally, the locker cannot open without the use of a high security key which cannot be copied. These are supplied in duplicate in a sealed pouch to the customer when they first pay for their locker. If they lose both keys the only means of access is drilling out and destroying the lock
We liaised with Alarm and CCTV specialists to complete the security package and provided insurance facilities via a Lloyds of London insurance broker. The client was able to provide an insurance cover of £30,000 per locker for a comfortingly small yearly premium.
The cost of the project was in excess on £1,000,000. Our customers steadfast work in assessing the potential has proved itself. Within 18 months they announced they had recouped their initial investment with only 50 % occupancy of lockers. The yearly rental now provides an ongoing revenue stream