The Best Home Safes For Your Summer Holidays

With over 70 million trips taken from the UK last year*, and 86% of adults planning a holiday this year**,  there are potentially millions of homes (and possessions) being left unprotected.
If you're heading off on holiday this summer, wouldn't it be reassuring to know that all of your possessions are extra secure? If you've never considered buying a safe for your home before, we've created this handy guide to help you decide which safe might be best for you!
Here are our top choices for home safes to protect your belongings this summer.
If You're On A Budget – Vela SS0800 Series
The Vela Series is the perfect entry level security safe for home and office, and perfect for people on a budget.
The range is suitable for security protection and is rated for up to £1,000 cash and £10,000 valuables protection
It comes in 5 different sizes depending on your needs, either with a key or electronic keypad lock
The SS0803 model is particularly suitable if you're looking to store your laptop or tablet, with its large internal width
Additional features include an internal LED light and pre drilled bolt holes making this safe suitable to be fixed to the floor or wall for extra security!
The Best All Rounder – Titan FS1280 Series
The Titan Series is our most versatile safe, packed with lots of protection and additional features that make it perfect for the home.
The biggest difference between the Titan and the Vela is that the Titan offers up to 60 minutes fire protection for paper and digital media
The Titan also has double the security protection rating, with £2,000 cash and £20,000 valuables protection
The range comes in 3 sizes and is available with a key, electronic keypad or fingerprint lock
Handy features such an a pull out drawer, internal key hooks and an adjustable shelf make the Titan great for organising your items
The Titan is also drop tested, meaning it's designed to withstand falls from 9.1 meters through a burning or collapsing floor
The High Security Option – Fortress SS1180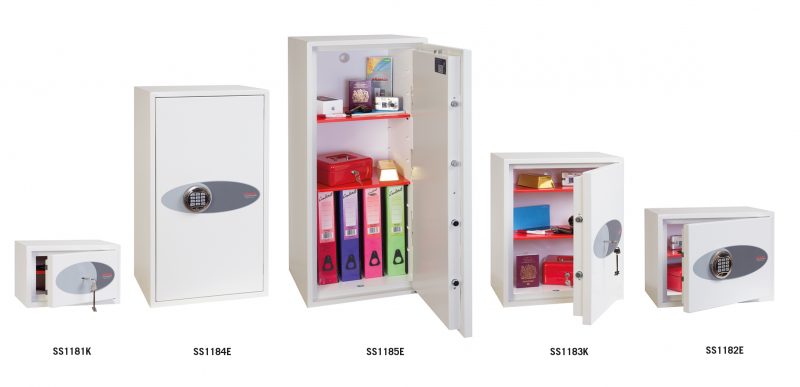 If you're looking to store more than £2,000 or £20,000 worth of valuables – you might want to consider the higher security Fortress Series. The Fortress is an S2 graded safe – meaning it's been tested to European Security standards by certification body ECB.S.
The Fortress range offers serious security for the home, with up to £4,000 cash and £40,000 valuables cover, this could potentially be the perfect option for a jewellery or watch collection
The range is available in 5 sizes, all the way up to the large 99 litre SS1185 – catering to a variety of storage needs
The high security double bitted key or electronic locking options on the Fortress offer advanced protection from burglars
The series is approved by Secured By Design, a UK police ran initiative, for their robust and secure construction.
Summary
Whether you're a single person looking to secure some cash or a few cherished items, a large family looking to secure your mountain of electronic devices or a collector looking to store your most prized possessions, we like to think we have safe solutions that cater to all homes. If you're still not sure, get in touch with our friendly sales team and we'll be more than happy to assist you in making the right safe selection for your home.
Extra Holiday Tips
Avoid posting publicly about your holiday on social media until after the event, this is an easy way to let the world know your home is vacant
Ask a neighbour or family member you trust to check on the house if they can, having a physical presence at the house could deter potential burglars watching your home
Add timer switches to some appliances such as lamps so that they automatically turn on at night, giving the illusion someone is home
Invest in some affordable smart cameras so you can be alerted of any unusual activity at your home
* https://www.finder.com/uk/outbound-tourism-statistics
** https://www.abta.com/sites/default/files/2018-10/Holiday%20Habits%20Report%202018%20011018.pdf